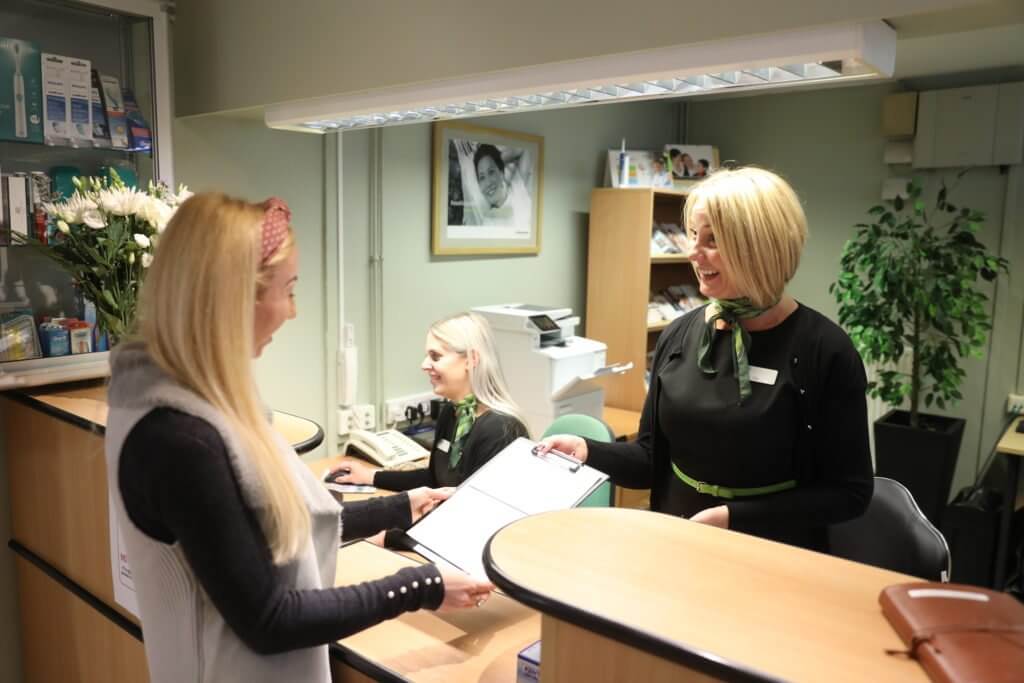 What our patients say
My past dental experiences have not been good, but with you it was so different.
My past dental experiences have not been good, but with you it was so different, it was relaxed and informative and the cosmetic work I… had done has been tremendous. it has changed my life to the extent I am smiling ear to ear, (something Lizzie called a Wallace and Gromit grin!). I never thought it would make me more confident than I am, but it has. Lizzie has the perfect nature I have known in a person which makes you feel secure and relaxed and her advanced cosmetic skills are there for all to see. I should have done my teeth a long time ago. Thank you so much for my new look and for making my dental experience so relaxing and rewarding and value for money. I would have no hesitation in recommending you to anyone who wishes to have any form of dental work carried out. Read more "My past dental experiences have not been good, but with you it was so different."
Mr Ken S
Many thanks for great result…
Many thanks for great result. Its so easy to forget what my teeth were like and I am getting so many positive comments on them.… thank you for such pain-free, stress free procedures. Read more "Many thanks for great result…"
Miss Janet W
I struggled with broken sleep
I struggled with broken sleep through waking myself up with a snore or being woken up by my husband for snoring for a few years.… Having my Somnowell MAA fitted was a really positive feeling – I was able to do something about it.  I am delighted with the results. I now wear it most nights – even when I am away travelling without my husband. If I don't wear it I feel and see the difference. It is surprisingly comfortable to wear.Read more "I struggled with broken sleep"
Jen
I'm happy to report it's great
You asked me to let you know how I was getting on with my anti snoring device. I'm happy to report it's great. Of the… three devices I've worn this one is much improved on the others and is the most comfortable.I'm pleased I made the decision to keep to the model that I was used to so thank you very much for your hard work in providing it for me. It's very much appreciated. My husband said he's not heard me snoring so that must be good. I wish more people would realise that there are remedies available and that they do not have to accept the problem.Read more "I'm happy to report it's great"
Linda
Mt dentist phobia is cured
A huge thank you to Lizzie and her team. After having huge phobia about the dentist, they made it such a pleasant experience. Lizzie and… her team are also incredibly patient with my children who are also unsure and nervous of dentists.Read more "Mt dentist phobia is cured"
Helen
Expert treatment
I cannot speak highly enough of the expert treatment, kindness and care given to me now and over the years but in particular presently.
Joanne
Well worth waiting 6 years
After waiting 6 years for an implant, Jonathan was recommended, so glad I waited, I couldn't be happier. Thank you very much.
Hollie
Covid protocol
Visiting the practice during this covid period has left me with incredible admiration at the depth of thought that has been taken to ensure both… patient and staff safety. The new systems from arrival to treatment are incredibly thorough and professional. A lot of hard work and  planning has been undertaken to ensure the smooth running of the practice. A great experience for a much relieved patient. Thank you to all the team at Wickham. Read more "Covid protocol"
Mark B
Visit during COVID-19
Thanks for seeing my daughter today. Just to let you know the process was really smooth and very reassuring. I hope you first day back… went ok. Read more "Visit during COVID-19"
C. Wade
Top dentist
Been coming here for a few years now.
These guys are always friendly and professional .
Just had 5 implants done to hold… my full denture in place , and it's amazing .
Fully recommended !!! Read more "Top dentist"
Andy M
Bite Splint
I had been suffering with a sore neck and headaches for years and had noticed that my bite had changed over time, from the first… night I wore the bite splint fitted at Wickham Dental Practise the tension in my neck and jaw completely disappeared-no more headaches! I'm so happy to have found a treatment for pain I had thought I would be stuck with! Read more "Bite Splint"
Hannah Diamond
A Caring Practice
I am extremely happy with the last dental work that Dr Hall has completed. Although it was hard going for all concerned, four implants in… the lower jaw, completed over a number of months (Covid-19 got in the way). The staff who make up the practice could not have done more to help me through this procedure.
Further work has been requested by myself for the upper jaw. I am certain that the same level of technical skills and caring will be forthcoming at the next appointments.
There would be no problem recommending this Dental Practice to anyone thinking of dental treatment. Read more "A Caring Practice"
M Hughes
Orthodontic treatment
Before starting treatment my bottom teeth were crooked, so I decided after discussion with Lizzie to go ahead with straightening. Major benefits from this treatment… is that my teeth are even which gives me confidence.
Both Lizzie, her nurse Emma, Zoe the receptionist and all the practice team were incredibly supportive throughout.
Although it was fairly costly in time and money it was worth every penny and I would highly recommend anyone considering this type of treatment to go ahead.
I would give the practice a 5 star rating. Read more "Orthodontic treatment"
Clare Jane Crawford
Amazing
I would like to say a very big THANK YOU to all the ladies that has helped me in my time of need. You have… an amazing team friendly , warm welcome, and understand of people thanks again xxx Read more "Amazing"
Joanne Meek
Recommended practice
I have been attending the practice for many years and at one time we were 3 generations attending.
The practice adapted with speed and… every possible safety measure during the pandemic to ensure patients could still receive necessary treatment.
The staff are friendly, knowledgeable and with their experience are always ready to find a solution to a problem.
A very good practice Read more "Recommended practice"
Carole Woods
Root canal
Dear Dr Hall
Many thanks for this – and for the treatment last week. As you had advised, it was not exciting (for the… patient) but painless. I was astonished by the technology and your dexterity.
Best regards
Anthony Read more "Root canal"
Anthony B
Great Dental team
From when you walk in the door, to cleaning, xrays, fillings and crowns, this dentist office is fantastic. They all do a great job.
Donald W Galorneau
Why not tell us what you think - leave a review